Egy korábbi cikkünkben említettük, hogy az okostelefonok egyik Achilles-sarka a gyorsan merülő akkumulátor. Bárkit megkérdezünk, ez lenne az egyik, amit mindenképpen megjelölne, mint bosszantó tényezőt az okostelefonban.
Általános felhasználás mellett egy teljes napot végig tudunk nyomni a telefonunkkal. De ugyanakkor adódhat olyan szituáció, amikor már csak 1%-on van a készülék és az égvilágon sehol egy töltési lehetőség. És Murphy törvényének köszönhetően, pont akkor van szükségünk még legalább fél órára a telefonunkra.
És ilyenkor arra gondolunk, bár lenne nálam egy pótakku, vagy használhattam volna energiatakarékosabban a telefont. Hogy ezt miképpen tudod kivitelezni erről fog szólni ez a cikk.
Milyen megoldások vannak arra, ha gyorsan merül a telefonod?
Először arról lesz szó, hogy hosszú távon mit tehetsz azért, hogy az akkud sokáig bírja. Majd pedig pár tanácsot és tippet osztok meg veled, hogy napközbeni használatnál is minél tovább elnyújthasd az akkumulátor töltöttségét.
Hogyan állapíthatod meg, hogy "egészséges-e" az akksi fogyasztásod?
iOS
iPhone-on a beállítások > akkumulátor menüben találsz adatokat az akkumulátor felhasználtságáról. Ezeket kell elsősorban egy kicsit átnézned. Itt képet kaphatsz arról, hogy az egyes appok, folyamatok milyen mértékben használják el az energiát az akksiból.
Alapvetően azt kell látnod, hogy az "Utolsó teljes feltöltés óta eltelt idő" résznél a használat lényegesen alacsonyabb legyen, mint a készenléti üzemmód ideje, hacsak nem használtad folyamatosan a telefonod.
Ha nem használtad és mégis megközelítőleg ugyannyi a két érték időben, akkor ott valami probléma van. Ugyanis akkor valamilyen oknál fogva nem képes a telefon készenléti állapotba kerülni.
Android
Itt kicsit trükkösebb kideríteni, hogy mekkora a használat-készenlét arány. Le kell tölteni hozzá egy Wakelock Detector [Lite] nevű alkalmazást. Miután megnyitod, mutatni fogja az arányokat. Ha meg szeretnéd tudni, hogyan tudsz részletes statisztikát nézni arról, hogy pontosan melyik program ébreszti fel a telefont és hányszor, akkor kövesd az alkalmazásban található utasításokat, vagy olvasd el ezt (egyelőre csak angolul).
Itt is az a lényeg, hogy a piros rész jóval kevesebb legyen, mint a zöld rész.
Ha kicsit hagyod a telefonodat, akkor Android-on például ennek kell látszódnia:
Okostelefon Akksi Teszt
Hogy valóban problémás az akkumulátor, egy gyors teszt segítségével el is döntheted. Mivel percre pontosan tudod követni az akkumulátor felhasználtságát ezért a fent említett készenléti üzemmód és használtság idejének értékeit kell leírnod. Majd egy 5-10 percre készenléti állapotba helyezed a telefonod és nem piszkálod.
Az idő letelte után nézd meg, hogy mennyit változtak az értékek. Ha minden megfelelően működik, akkor a készenléti állapot pontosan ezzel az 5-10 perccel növekedett. Tehát az akkumulátor felhasználása a készülékednek teljesen normális.
Ha a készüléked megfelelően tud készenléti állapotba kerülni és így is túl gyorsan merül az akkumulátor, akkor sajnos valószínűleg valami nem stimmel és érdemes lecserélned a régit.
Ha pedig a készüléked nem tud megfelelően készenléti állapotba kerülni, akkor érdemes kipróbálnod az alábbi felsorolt tippeket.
Tanácsok a hosszabb akkumulátor életért
Ha átlagos felhasználás mellett szeretnéd megnövelni az időt, amit a telefonod a nap folyamán kibír, akkor az alábbi tanácsok tudnak neked segíteni. Viszont, ha egész nap a telefonod nyomod és brutál módon nyúzod, akkor számodra az itt felsoroltak sem fognak 100%-os megoldást nyújtani. Mert, amit megspórolsz azt is feléled. Javaslom, szerezz be egy powerbankot.
Most akkor nézzük az akkumulátor élettartam és töltöttség növelésének praktikáit.
1. Ne töltsd fel teljesen
Ez inkább hosszútávon kifizetődő technika. Ma már a lítium-ion akkumulátorok nem igénylik a 100%-os töltöttséget 80-90% bőven megfelel számukra.
2. Ne hagyd lemerülni teljesen
Ugye ez lenne alapvetően a cél. Ám vannak, akik úgy gondolják, hogy a nap végén, ha már úgyis fel fogják tenni este töltőre a készüléket, akkor teljesen lemerítik és utána teszik fel tölteni, mert, hogy így jobb lesz akkunak.
Valójában kutatások szerint 50-60% alá nem érdemes engedni a töltöttséget, mert ezen százalék fölötti töltés a legmegfelelőbb az akku kémiájának. Szóval érdemes a munkahelyen, autóban, útközben töltéseket beiktatni.
Ugyanakkor nyilván nem szeretnéd állandóan tölteni a telefont. Míg a telefon itt-ott való töltése jobb az akkumulátornak, mintha a teljesen lemerítenéd, a legtöbbet úgy hozhatod ki belőle, ha körülbelül 40 %-ról 80-85 %-ra töltöd fel.
Na és most az előző két pontnak totál ellentmondva:
3. Néha hagyd lemerülni és töltsd fel teljesen az akkumulátort
Ezt egyszer egy hónapban érdemes kivitelezned. Fentebb azért tanácsoljuk, hogy ezt ne tedd minden nap, mert az "állandó" nagy terhelésnek teszi ki az akksid, ezáltal hamarabb fog elhasználódni. Viszont ez az egy havi procedúra kicsit olyan, mintha kondiba küldenéd. Egyszerűen nem hagyod ellustulni a lítium-ionokat.
4. Ne használj gyors töltés funkciót
Ha gyors töltésre képes a telefonod, akkor kapcsold ki a funkciót a beállítások > akkumulátor menüpont alján Android rendszeren. Az apple még nem adott ki olyan telefont, amin lenne gyors töltő.
Most pedig következzen pár szoftveres megoldás a problémára.
1. GPS felhasználás letiltása
Minden APP esetén az alkalmazásfrissítés és a GPS felhasználást tiltsd le (Pl.: Facebook). Ezzel jelentősen csökkentheted az akkumulátor felhasználást, de ha esetleg elveszne a telefonod, akkor nem fogod tudni megtalálni online.
iOS
beállítások > helymeghatározás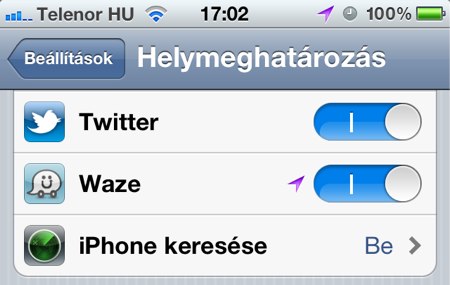 Android
Van lehetőség a helymeghatározás teljes kikapcsolására a felső menü lehúzásával vagy be tudod állítani alkalmazásonként, hogy melyeknek szeretnéd a helymeghatározást. Továbbá be lehet állítani a helymeghatározás módját. Általánosságban a GPS keveset fogyaszt és kevésbé pontos. A Wifi és adat helymeghatározás pedig többet fogyaszt és pontosabb. Van arra is lehetőség, hogy akkor is használjon Wifi-s helyeghatározást, amikor ki van kapcsolva a Wifi. Ezt nem ajánlott bekapcsolni.
Itt egy alkalmazásra kattintva ki tudod kapcsolni a helymeghatározást
2. Ne zárd be mindig az appokat
Nem szükséges kilőnöd az appokat a háttérből, ugyanis ma már szoftveresen megoldják, hogy ez ne használjon akkora energiát, és többe kerül újra betölteni a telefonnak az alkalmazást, mint onnan folytatni ahol abbahagytad.
3. Ne ellenőrizd a töltöttséget folyamatosan
Egy pszichológia trükk: Kapcsold ki a töltöttség százalékos kijelzését, így nem fogod, folyamatosan ellenőrizni még mennyid van, ezáltal merítve tovább a telefont létrehozva egy ördögi kört.
4. Spórolj a kijelzővel
A legfontosabb pedig a kijelző, amikor teheted, ezt kapcsold energiatakarékos módba, használd kisebb fényerővel, állíts be sötét háttérképet. Ez nagyon sokat felhasznál az energiából.
5. Értesítések beállítása
A rezgő funkciót állítsd be, hogy csak SMS illetve hívás érkezésekor használja a telefon. A különböző appoknál kapcsold ki az értesítést vagy állítsd be, hogy ritkábban értesítsen. Kivéve, ha olyan alkalmazásról van szó, ahol fontos, hogy azonnal értesülj mindenről (pl. munkához szükséged van emailre).
6. Töröld az appokat, amik sokat fogyasztanak
Előfordul, hogy meg kell válni egy alkalmazástól. Sajnos annyi féle telefon van, hogy nem mindig tudnak az alkalmazás fejlesztők úgy megírni egy programot, hogy minden telefonnal tökéletesen működjön. Így ha látod, hogy magas százalékot fogyaszt, főleg akkor, ha ritkán használod, akkor töröld.
iOS-en például a beállítások > akkumulátor menüpontban láthatod a százalékokat. Androidon hasonló táblázatot találsz a beállítások > akkumulátor > akkumulátor használat menüpontban.
A fenti példában a WhatsApp-ot érdemes lehet kitörölni, mert túl sokat fogyaszt és inkább átállni egy másik, alacsonyabb fogyasztású chat programra például Viber vagy Messenger.
7.  Ürítsd ki a cache-t a telefonon vagy alkalmazásonként
Lehetséges, hogy beragadt valami olyasmi a file-ok között, hogy az akkumulátor merül emiatt. Ilyenkor érdemes egy cache ürítést csinálni.
Android
Első módszer (egyszerű)
Beállítások > tárhely > görgess le és a cache-nél tartsd le az újadat majd nyomj rá, hogy törlés.
Második módszer (vigyázni kell)
Ezt nem ajánljuk mindenkinek, de hasznos lehet: kapcsold ki a készüléked, majd kapcsold be úgy, hogy lenyomva tartod a BE/KIKAPCS + HOME + HANGERŐ FEL gombokat addig, amíg nem látod ezt:
A hangerő fel/le gombokkal tudsz navigálni és a ki/be kapcsoló gombbal tudsz választani. Nyomj a "Whipe cache partition"-re. Miután készen van (pár másodperc), válaszd ki a "reboot system now"-t és újraindul a készülék.
Harmadik módszer (apponként)
Beállítások > alkalmazások > alkalmazás kezelő (és ha nem találsz valamit, akkor meg job felül válaszd ki, hogy "mutasd a rendszer alkalmazásokat"). Nyomj rá bármelyik alkalmazásra, azon belül "tárhely" és itt tudod kiüríteni.
iOS
Itt nincs annyi lehetőség, de alkalmazásonként itt is ki tudod törölni. Beállítások > általános > felhasználás > tárhely > és itt válaszd ki valamelyik alkalmazást. Itt tudod kiüríteni a cache-t.
8. Kapcsold be a spórolós üzemmódót
iOS (9.0 és felfelé)
Beállítások > akkumulátor az oldal tetején tudod ki/be kapcsolni
Android
Beállítások > akkumulátor > itt ki tudod választani
Fontos megjegyezni, hogy ilyenkor a telefonod lassabb lesz.
9. Kapcsold ki a bluetooth-ot
Néha egy-egy bluetooth-os eszköz használata után véletlenül úgy marad a bluetooth. Ezt érdemes kikapcsolni, ha nem szeretnél a telefonra csatlakoztatni semmit, mert ez önmagában is fogyasztja az akkumulátort.
10. Kapcsold ki a Wifi-t ha 4G-n vagy.
A Wifi keresése folyamatosan igénybeveszi a telefont. Ha tudod, hogy nem leszel Wifi közelben egy ideig, akkor kapcsold ki ezt a funkciót, majd újra akkor kapcsold be, ha Wifinél vagy.
11. Állítsd be a spórolósd üzzemmódót alkalmazásonként (Android)
Android-on automatikusan ha 3 napig nem használsz alkalmazást, akkor a telefon átállítja spórolós üzemmódra. Ilyenkor lehetséges, hogy nem fogsz kapni értesítéseket. A spórolós üzemmódót viszont kézzel is beállíthatod, ha biztos vagy benne, hogy bizonyos appokra nem lesz szükséged.
Beállítások > akkumulátor > (legörgetve) alkalmazások > részletek gomb
Ezeket érdemes kipróbálnod, majd pedig tesztelned a fent leírt módszerrel, hogy beváltak-e.
Továbbá, ha ismersz valakit, aki folyamatosan arról panaszkodik, hogy merül a telefonja, küldd tovább neki ennek a cikknek a linkjét..
Te milyen egyéb módon küzdesz még az akkumulátor lemerülése ellen? Kommentben írd meg a trükkjeid és hogyha kipróbálod ezeket és beválnak írd meg azt is! Kíváncsiak vagyunk.
Újságíró vagy? Van saját blogod, weboldalad vagy közösséged?
Szabadon felhasználhatod cikkjeinket, ha linkelsz a forrás anyagra weblapodról.
Ha szeretnél tőlünk adatokat, statisztikákat, elemzéseket vagy véleményeket, vedd fel velem a kapcsolatot a kallai.barnabas@tarifaexpert.hu címen.
[Total: 8 Average: 2.3/5]